Conversion optimization is a continuous process and a long-term commitment. This is why you should not only look at the uplift of single A/B-tests but rather focus on the cumulative uplift of all tests. To be successful in the long run, you need to understand the factors that are impacting your optimization work and how you can influence them.
3 optimization drivers
Three CRO factors will impact your business' long-term growth:
number of tests
win rate (% of test winners from all tests run)
average uplift/test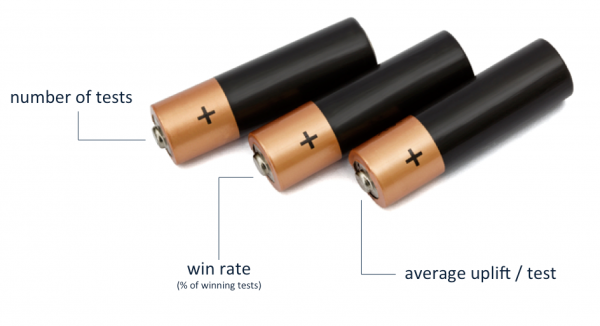 How we boost productivity in our CRO projects
We accompany our customers, often over several years, throughout their conversion optimization efforts. Together, we continuously adjust key levers to increase the cumulative uplift and business impact from A/B tests.
Here are recommendations for each of the 3 drivers based on our experience from the past few years:
1) How to increase the number of tests
Conversion and traffic numbers determine how many tests can be conducted on a website in a given timeframe. However, in many cases, fewer tests are run than traffic levels would allow. This means the limiting factors are elsewhere. Thus, what other possibilities do you have to increase the number of tests (apart from growing traffic and conversion numbers)?
On top of securing management buy-in, you need to establish a testing culture in the entire company. This shift to a test-and-learn approach will not happen overnight. The entire organization must embrace a mindset where testing, failing and learning is accepted as part of an iterative, agile procedure. Based on our experience, it helps to have everyone on board at an early stage (the marketing department, sales, developers, customer support, and so on), e.g., during the idea-generation phase, for resource planning, and test idea input. Additionally, test results should be shared (and celebrated) with all stakeholders on a regular basis.
Our most successful clients have a small, powerful, cross-functional team (with 1 representative from all departments involved) that ensures smooth planning and execution of the split tests. In this way, responsibilities are clearly defined, and there is a strong commitment from all sides to execute the jointly agreed-upon experiment plan. A further advantage is that a cross-functional team can better react to resource bottlenecks; for instance, if resources are currently limited in the development department this can be reflected in the testing roadmap by giving priority to tests that need hardly any programming (such as simple tests where pictures or text elements are exchanged). If the designer is the bottleneck, tests with no need for graphic work can be pushed forward (such as the optimization of forms).
Don't forget that you can run multiple separate tests at the same time.
You should avoid running concurrent tests if there are interactions and overlap between tests.
One possibility is to conduct parallel tests in different flows on a website: 2 checkout tests at the same time are not possible. However, one test in the checkout and another on the newsletter registration form will work fine.
Another option to run simultaneous tests is to target them to different user segments (e.g., customers and prospects, mobile visitors and desktop visitors, registered users and visitors).
To increase the number of simultaneous experiments even further, you can add email split tests to the mix. In this way you will optimize an additional channel while gathering valuable user insights that might give you new ideas for tests on your website.
2) How to improve the win rate
One of the biggest and often easiest optimization levers is a strong focus on your own users combined with hypothesis-based testing.
Our tips to increase the percentage of winning tests:
Sound user research is the only solid basis for long-lasting higher conversion rates. Best-practice examples are showcased in numerous blog posts as a quick way to boost online revenues. With increasing pressure to achieve higher conversion rates, it is often tempting to copy and implement these success examples on your own website. However, experience has shown us repeatedly that optimization based on insights from user research delivers much better results.
Get Amazing Insights About Your Visitors Even If You Have ZERO Budget for User Research
7 USer Research Techniques That Also Work on Low-Traffic Sites
6 Ways to Capture Priceless Customer Insights with in-the-moment Feedback

Hypothesis-based testing helps you increase your win rate.  Based on insights from your research phase, you can start forming hypotheses. Here is a simple template that we like to use to formulate them: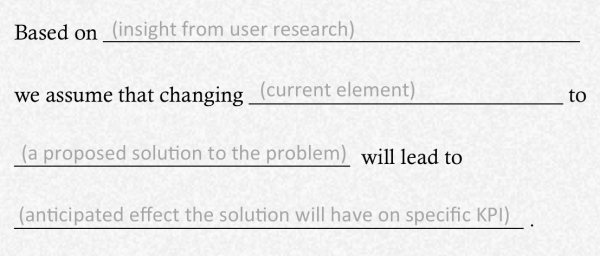 Test ideas should be sorted by estimated uplift potential and implementation effort. Setting priorities is not always easy. A simple sheet can help set up your experiment plan. As a team, you will evaluate the uplift potential and implementation effort with a number from 1 to 3. High uplift potential is rated a 1; likewise, low complexity is rated a 1. By multiplying the 2 numbers, you can easily rank your test ideas:

3) How to get higher uplifts
The third lever is closely related to lever 2. The better insights you gain from user research, the better you can formulate a strong hypothesis and achieve superior results with your tests. Here are some additional factors that can help you achieve higher conversion uplifts:
Make your tests big, bold and prominent to increase your chances of getting higher conversion uplifts. The more obvious and eye-catching the changes you are testing, the bigger their potential impact on conversions.
Focus on the "main roads" for your testing activities. A quick analysis of your analytics data will reveal the major traffic pathways of your visitors. In turn, these will give you insights on the pages where tests will most likely have the biggest impact on your business.
How can we grow your online business?
– Subscribe to our newsletter to receive more case studies and tips that might inspire you to run tests on your site.
– Contact us if you'd like us to optimize your business.